Innovation to Improve Lives
A digital health platform that increases medication adherence and provides real-time data from inside the home.
Digital Solutions for Real-World Problems
of Americans comply with their medication adherence.
medication adherence among patients with multiple serious mental and physical illnesses.¹
is lost each year in the US healthcare system due to noncompliance.
deaths per year due to issues with medication compliance.
in non-adherence cost per clinical study.²
¹ Joanna P. MacEwan, Alison R. Silverstein, Jason Shafrin, Darius N. Lakdawalla, Ainslie Hatch, Felicia M. Forma. (2018, May 3).
Medication Adherence Patterns Among Patients with Multiple Serious Mental and Physical Illnesses.
Springer Link.
https://link.springer.com/article/10.1007/s12325-018-0700-6
.
Our mission is to use technology to transform how we monitor patients with chronic conditions and help transfer data across the care continuum. We are connecting disparate digitally generated data points to close the information loop with actual in-home user data.

We're reinventing the industry with our advanced technology and an innovative medication delivery system. Perigon Health 360 provides data and connects health APIs for improved adherence and patient outcomes.

Welcome to the future of digital health.
Now Introducing

Medesto is our propriety platform that monitors and modifies human behavior by using digitally generated data to create scalable but personable communication pathways that will drive increased medication adherence and side effect management.

Medesto is comprised of independently generated data points, a mobile app, a provider portal, medication dispensing services, and pharmacy services.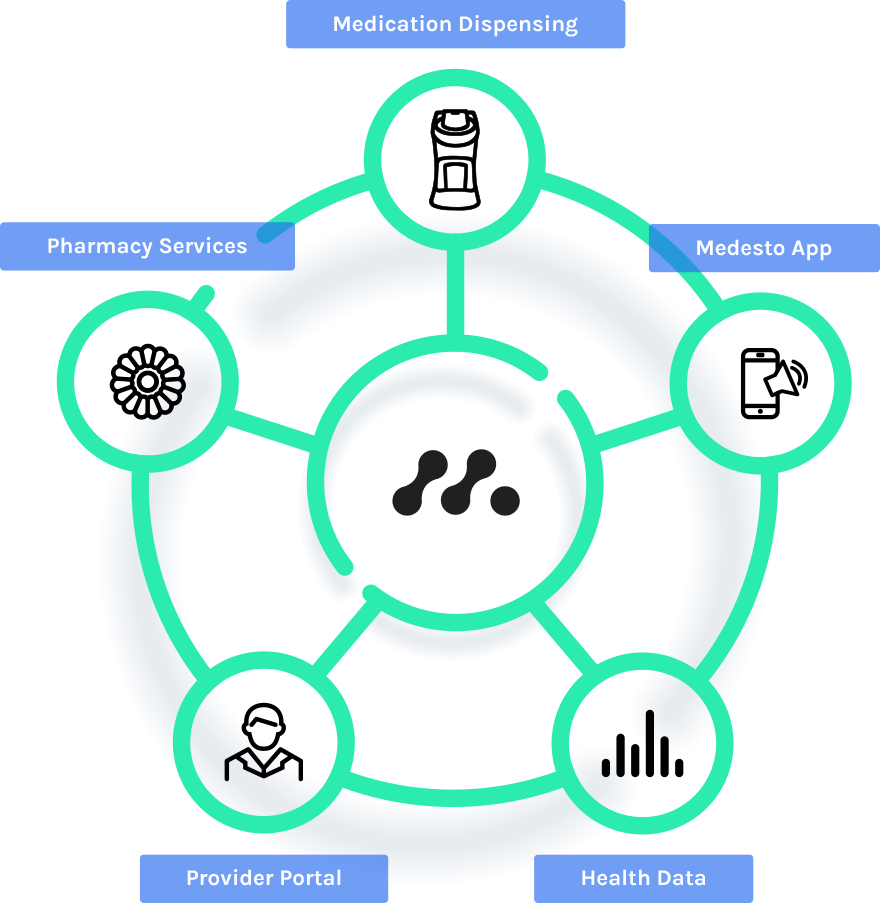 "It is so easy to set up and understand how the machine works. The reminders from the machine and from the app make sure I take my medication every day"...Rachel
"When the machine speaks alert it helps me remember to take the medicine
each day. There have been times I didn't hear it but my husband did- and he
brought me my medicine! It helps us work together to keep my medication on track
each day. I haven't missed a dose since starting."...Becky
"I am a super busy mom so I appreciate the machine reminding me multiple times-
sometimes I even forget the medicine in the cup! But the machine reminds me!"...Alicia
The Perigon Health 360 family of companies include SaaS, nutrition, and pharmacy solutions.
Closing the Information Loop
Our proprietary adherence platform harnesses real-time data to track medication compliance and closes the information loop between patients and stakeholders.

Using our WiFi-connected dispenser, we utilize open healthcare APIs to monitor and improve adherence through a secure digital health ecosystem.